September
6–23, 2018
Presented by the Bryn Mawr College Performing Arts Series in partnership with FringeArts as part of the 2018 Fringe Festival
This survey of artist Tania El Khoury's work features her internationally acclaimed Gardens Speak—an immersive sound installation that invites audience members to dig in the dirt in order to listen to oral histories collected from the early period of the Syrian uprising. Working between Lebanon and the United Kingdom, El Khoury crafts innovative performances and installations that engage the audience in multi-sensory interaction. The five works of ear-whispered also include the one-on-one performance As Far As My Fingertips Take Me; two immersive video installations, Stories of Refuge and Camp Pause, both produced as a collaboration through Beirut-based Dictaphone Group; and the world premiere of Tell Me What I Can Do, commissioned by Bryn Mawr College.
ear-whispered is presented as part of the 2018 Fringe Festival, which runs from September 6 to 23. It features five major works, four of which are at Bryn Mawr College (including Gardens Speak), and two are in Old City (As Far As My Fingertips Take Me is in both locations). All locations are open to the public. (See our directions page for how to get there.)There will be three performances of Gardens Speak in Arabic (September 15 at 2pm, 3pm, and 4pm—the rest are in English). Two of the works will be running past the festival: Stories of Refuge runs through September 28 at Twelve Gates Arts in Old City and Camp Pause runs through December 14 in the Rare Book Room in Canaday Library at Bryn Mawr College. Additionally there are a number of special events—conversations, lectures, events with music and food—that deepen the audience's appreciation of ear-whispered and further explore the artistic, political, and cultural world  that El Khoury's work inhabits.
For group reservations, please contact the Bryn Mawr College Arts Office at reservations@brynmawr.edu or 610-526-5210.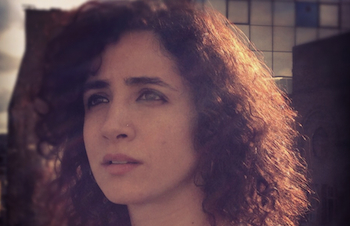 Born and raised in Lebanon during that country's civil war, El Khoury's work focuses on audience interactivity and is concerned with the ethical and political potential of such encounters. El Khoury holds a PhD in Theatre Studies from Royal Holloway, University of London.
View this introductory video for ear-whispered: works by Tania El Khoury.

The latest from Writings
Tania El Khoury's work is incomplete without you. Unlike more conventional theatre and performance, her live art work* comes alive through audience interaction. In Stories of Refuge, audience members recline on bunk beds, evoking an image of prisons and refugee camps; in Gardens Speak, they listen to accounts of the lives and the last moments of Syrian martyrs, becoming recumbent inhabitants of a graveyard themselves.
Read More
Event Locations
At Bryn Mawr College
Gardens Speak
Camp Pause
As Far As My Fingertips Take Me
Tell Me What I Can Do
In Old City Philadelphia
As Far As My Fingertips Take Me
(PII Gallery, 242 Race Street)
Stories of Refuge
(Twelve Gates Arts, 106 N 3nd St)